RPS, or "
Rock, Paper, Scissors"
for the squares, is the oldest game in history(*starting from when scissors were invented).   
I wouldn't refer to myself as the 'best' at RPS, but i'd consider myself above-you.  
So, late on Wednesday night (read: Thursday ~10am), I've ended up at the Mad Decent apartment, sitting around a table w/
Sandwich Boy Naeem
,
Unemployed Lloyd
, and
'Nother Drink Switch
.  Naturally, as is the case when dealing with such ardent enthusiasts of filling up time, RPS comes up in conversation.  
Switch has never played before, so he's instantly cast-out of the competition.  Naeem was into the 3-way tournament, but pretty much got scared away when me & Lloyd started clearing off the table and spacing out the chairs '
The Good, The Bad, and The Ugly'
style.
In an amateur attempt at scaring off his last challenger, me, Lloyd brings out the cash.
*Tsk, tsk*
Little did he know who he was messing with.  
The bet had started off at a respectable $5, but I 'only' had a $10; so naturally, we got locked into a best-of-3 $20 winner-take-all-loser-gets-blogged-about match.
The crowd gathers around the table and the intensity begins.  
If you haven't played RPS for money in a while . . . . it'll get you on that 'next' level.  
First comes the trash-talk.  You try to psych-out the opponent, while psyching yourself up.  Lloyd is pulling the
"Oh, I got you son!"
chatter.
Next, when you are both ready to get down to business, you enter the
Staredown
.
Here, you try to get a little read on your opponent.  Is he the type of guy that'll throw Rock first?  (*Note: 90% of newbies throw Rock first.)   
But wait, he's putting up money, so he's probably going to go for the
Scissors
; knowing that I would throw 
Paper
to beat a newbie's 
Rock
.  But then I would have to counteract with
Rock
; but maybe he already figured that in.  Et cetera.
First Round
: I beat him w/
Paper
.
* What a sucker, is he that weak that he pulled the
Rock
out on the first-round?!
Intensity grows, and now Lloyd wants to raise the bet.  
Well, I don't have any more money . .  
but Switch does!!
 He covers my $10 increase, and now we're at $40 --- plus, I've got a crucial 1-0 advantage.    
10 minutes after more trash-talking and pacing around the room, I ruthlessly put Lloyd out of his misery with another
Paper
.  A clean 2-0!!  You can just feel the disgrace haunting his dreams: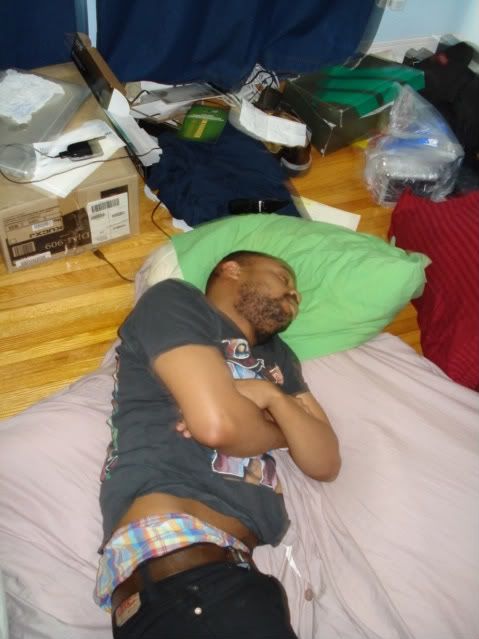 Who gwan test me now?!?
We strike up a match over lunch @ The Delano.  This guy plays with some weird Canadian rules, where instead of 1-2-3-Shoot!, its just 1-2-Shoot!  That nonsense fucked w/ my head and I lost 6-5 in an 11-round rapid-fire match.
Here's vid of Mr. No-Shame beating up on his
girlfriend
.
Solid Groove - Pat Pong (Remix)
No idea where I got this from, but here you go:
Master Kev & Scott Wozniak - String Thing (KW Griff Remix)
Herbie Hancock - Bring Down The Birds
- Sampled & used in Deee-Lite's party classic "Groove Is In The Heart"