There are other clips of
JD
speaking on other music biz ish
here
.

"They are doing what they see you doing... "

*EDIT:
 This was at first a long ranting post about blah blah blah; now it's just medium-long.
From what I've seen in
Miami
,
and for that matter most cities I've been fortunate enough to DJ in 
(focusing primarily in the US)
,
you could interchange the DJ between the cities and nobody could tell the difference.  Apart from varying degrees of finesse and technical proficiency, the set-lists would be near-identical.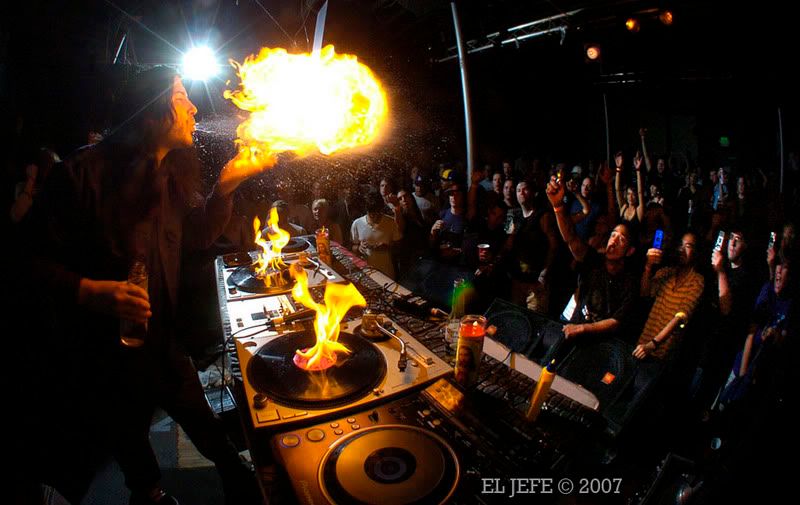 The worst thing about it is that this trend of conglomeration/
"rushing to the center"
 is occurring in a period of time where music is, for arguments sake, at its most diverse.  
In what other decade could you hear most any genre at the same party?
Hip-Hop, Disco, Funk, Blues, Doo-Wop, House, Booty, Rock, Reggae
, etc etc etc.
 The question is, why, with the availability of such an expansive musical palette, is there an increasing moderation/conformity of selection?  Is it some derivative musical form of
"

Future Shock

"
?
Read me.  Seriously.  I'm like
1984
+9.

I can't remember the last time I watched a DJ who got me excited
*PAUSE*
 or inspired to push things forward.  
Well, if you're still reading this, and happen to be a DJ, take a chance and drop something people haven't heard that you enjoy next time you're out.  If it doesn't work, maybe you have a horrible taste in music and shouldn't be a dj in the first place.  Or, maybe you need to hit em again, and again, and again.
Months ago,
Induce
and I were watching a
Channel 4
(UK)
documentary I had bootlegged called,
Pump Up The Volume: The History of House Music
, that has a segment on the days of 
Larry Levan
(?).  Some of the interviewees remark on how some nights he might have played an unknown cut 4 times in one night.  The first time, nobody cared; but by the last play, everybody was into it.  I told this to
Matt Cash
, and he kinda did the same thing w/
Holy Ghost
's "
Hold On
" track.  By the end of
Poplife
that night, everybody was up on it!
That said, play something different, and if it doesn't work . . .  5 times later, you can still play "
Groove Is In The Heart
" . . . the Remix.
Boz Scaggs - Lowdown