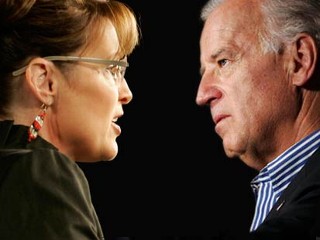 . . . and lemme just put this thought out there -- we'll see if i'm at all accurate.  
I'm sure you've heard/seen a bunch about how
Palin's
a dolt, and will horribly fail in the
VP
job if she can even get past the
'debate'
w/
'Barracuda'

 Joe Biden
(I totally just made up that nickname, think it should stick)
.  
Anyways, I'd like to predict that she not only won't make an ass of herself, she'll actually do . . . um, i dunno, O.K.  All this talk about her being an idiot will then be surmounted by her mediocre, yet passable, performance on these debates that the press has been billing as a massacre.
It goes back to my own famous words:
"You will never fail if you don't try."
Expectations of Palin's performance =
Ooooof!
Resulting view on Palin =
Not that bad; if not at least, way better than was to be expected.
Well, debates have started, lets just see if the
GOP
was able to craft this
'upset'
.  Dunno if this all made sense, but got no time to check it over.